Yep, it's the best of both worlds when your favorite pizza toppings and a hot and bubbly pan of baked ziti combine forces. And thanks to a few simple shortcuts, it turns out that this fun fusion recipe is actually incredibly easy to make too!
All you need is a package of pasta, your favorite marinara sauce (homemade or store-bought), shredded cheese, and a collection of your favorite pizza toppings to bring this recipe together. (Which makes this a perfect recipe to clean out the produce drawer, by the way, while also giving you the option to make this baked ziti gluten-free, dairy-free, vegetarian or vegan if you would like.) Then after a few simple steps of prep, this gorgeous casserole can be baking away in the oven and on the table ready to serve in no time!
It's a totally fun and flexible recipe to customize with whatever pizza toppings you love best. So round up your faves, and let's make some pizza baked ziti together!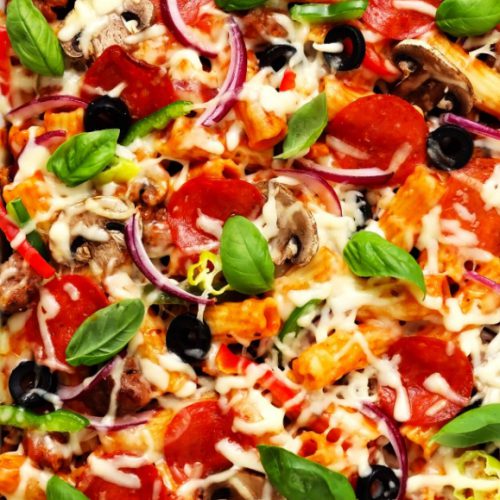 Pizza Baked Ziti
The best of pizza and pasta come together in this fun "Pizza" Baked Ziti recipe! I used traditional supreme pizza ingredients in the recipe below, but the pizza toppings (meat, veggies, garnishes, etc) that you include are completely up to you.
Ingredients
12

ounces

uncooked pasta

such as ziti, rigatoni or penne

1

pound

ground Italian sausage

1

tablespoon

olive oil

3 to 4

cups

sliced veggies

such as bell peppers, red onion, mushrooms, etc

3

cups

marinara sauce

homemade or store-bought

1 to 2

cups

extra pizza toppings

such as olives, pepperoni, pepperoncini, etc

3

cups

shredded mozzarella cheese

1/2

cup

freshly-grated Parmesan cheese

optional toppings: fresh basil

crushed red pepper flakes, extra Parmesan
Instructions
Heat the oven. Heat the oven to 375°F.

Cook the pasta. Heat a large stockpot of generously-salted water until boiling. Add the pasta (around the same time that you begin sautéing any veggies, see below) and cook the pasta until it is 1 minute shy of al dente. Drain the pasta completely and set aside.

Sauté the sausage (if using).* Heat a large non-stick sauté pan over medium-high heat. Add the sausage and cook until browned, crumbling the sausage with a wooden spoon as you go. Transfer the cooked sausage to a clean bowl and set aside.

Sauté any veggies that need to be cooked.* Add the oil to the sauté pan, followed by any veggies that need to be pre-cooked (see note below). Sauté the veggies for 3 to 5 minutes, stirring occasionally, until softened.

Combine. Return the cooked pasta to the large stockpot and add in the cooked sausage, cooked veggies, marinara sauce and any extra pizza toppings that you would like to bake into the casserole. (I recommend reserving a small handful of toppings to sprinkle on top of the casserole, if you would like.) Toss until evenly combined.

Layer the casserole. In a greased 9 x 13-inch baking dish, add half of the pasta mixture and spread it out in an even layer. Sprinkle half of the mozzarella and Parmesan cheese evenly on top of the pasta. Then add the remaining pasta mixture in an even layer, sprinkle the remaining mozzarella evenly on top of the pasta, and finish with a sprinkle of your reserved pizza toppings.

Bake. Bake uncovered for 20 minutes, or until the cheese is bubbly and golden and the casserole is heated through. Remove from the oven and transfer to a wire cooling rack.

Serve. Serve the baked ziti while it is nice and hot, garnished with your favorite toppings.
Notes
Pre-cooking meats and veggies: Any raw meat (such as Italian sausage, hamburger, chicken, etc.) will need to be pre-cooked before adding it to the casserole. Also, the veggies in the casserole will cook slightly as the casserole bakes. But if there are some veggies that you prefer to eat completely cooked/softened (perhaps such as mushrooms, onions, bell peppers, etc), I recommend pre-cooking them as well before adding them to the casserole. I recommend simply sautéing the meat and veggies, as directed in the recipe above.