Indulge in a symphony of flavors with our mouthwatering Cheesy Asparagus Tortellini Bake recipe. This delightful dish seamlessly combines the earthy goodness of tender asparagus, the luscious richness of perfectly cooked cheese-filled tortellini, and the comforting embrace of a creamy, cheesy sauce. With each bite, you'll experience a harmonious blend of textures and tastes that will elevate your dining experience to a whole new level. Whether you're seeking a quick weeknight meal or aiming to impress guests at your next gathering, this recipe promises to deliver both simplicity and sophistication in every cheesy, asparagus-infused forkful.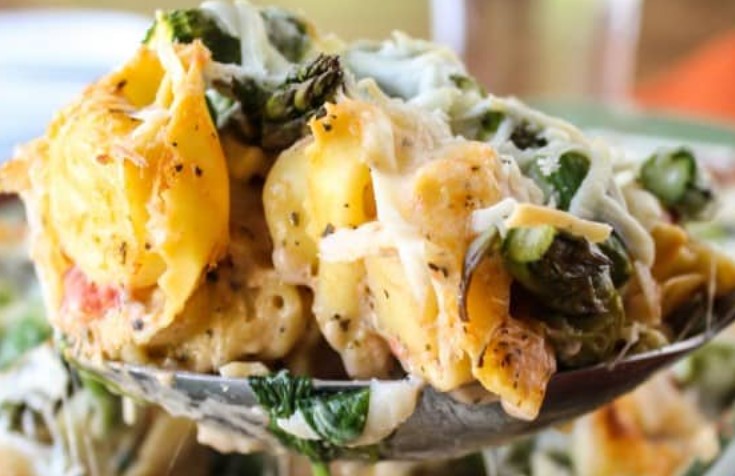 Cheesy Asparagus Tortellini Bake
Ingredients
1 15-

oz

jar Alfredo sauce

1 15-

oz

can diced tomatoes

drained

1

cup

baby spinach

packed

2

cups

mozzarella

divided

1

tablespoon

basil

1/4

teaspoon

crushed red pepper

dash salt

1 24-

oz

package cheese tortellini

refrigerated, uncooked

1

pound

asparagus

trimmed and chopped

1/4

cup

Parmesan cheese

or another 1/4 cup mozzarella
Instructions
Preheat oven to 350 F.

In a large bowl, add the Alfredo sauce, drained tomatoes, spinach, 1 cup of the mozzarella cheese, basil, crushed red pepper, and a few shakes of salt. Stir together with a rubber spatula.

Add the uncooked tortellini and use the spatula to break them apart. Stir it all together so that each tortellini is covered in sauce.

Pour the mixture into a 2-quart casserole dish. Snap off the woody ends of the asparagus, discard, and chop the rest into bite-size pieces.*

Layer the asparagus on top of the tortellini. Sprinkle another 1 cup of mozzarella over the top, then sprinkle the 1/4 cup Parmesan.

Bake in the middle rack of the preheated oven for about 30 minutes. If the edges are looking brown but the cheese in the center isn't browning, broil it for 1 minute.

Let stand for 5-10 minutes, then serve. (With a big salad and breadsticks! Yum)
Notes
The asparagus in this recipe is very firm because it is not cooked before baking. I like it that way, but if that's not your thing, then blanch the asparagus first: Trim and chop the asparagus and add it to a pot of well-salted, boiling water. Cover and let boil for 2-3 minutes. Drain immediately and rinse with cold water. You can either layer it on top of the tortellini or mix it in with the sauce.
I know that many stores sell tortellini in 20-ounce packages. I've never tried that amount with this recipe, but I'm pretty confident that it would work just fine. Also, it doesn't have to be cheese tortellini, any kind will do.
Another note on tortellini: I did not boil my tortellini before baking it. It went straight from the package into my oven. If you don't trust me, then by all means boil first! It will still taste great. The recipe calls for refrigerated tortellini, but if you want to use shelf-stable tortellini, I would definitely boil it according to package instructions.