You can learn the recipe and step by step to make Layered Chicken Enchilada Casserole with Green Sauce here easily and quickly. Are you looking for a great dinner menu idea? Try to make this dish, guaranteed delicious and satisfying. You and your family can eat well with this special dish.
Every day you and your family of course need a variety of nutritious food intake so that you can always move well and smoothly. Just imagine if you are hungry and there is no nutritious food, you will surely feel weak and less enthusiastic in carrying out various daily activities. Therefore, try to learn to cook every day with a wide selection of delicious and easy recipes and food. With continued practice, you will easily master the recipes of delicious dishes. One of the best dishes that you really deserve to try is the layered chicken enchilada casserole which has been proven to be delicious. You and your family will definitely eat it quickly and enthusiastically.
The taste of layered chicken enchilada casserole is as delicious as the doritos chicken casserole that I've shared the recipe with before. You have to try both of these dishes.
Today you don't need to be confused if you want to make delicious food for the family because today I am really excited to share a very special recipe that everyone likes, namely the chicken enchilada casserole. Well, so that you are not even more curious, let's just check the complete recipe below!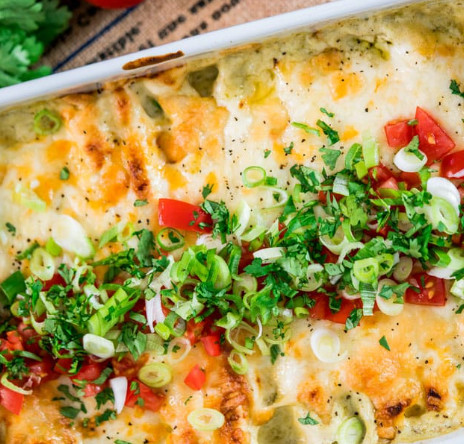 Layered Chicken Enchilada Casserole with Green Sauce
Perfect for the best dinner dishes. You will definitely be very satisfied with its delicious taste. Layered chicken enchilada casserole with green sauce is the best!
Ingredients
10

ounce

chicken breast cooked and shredded

16

ounce

green chile enchilada sauce

4

ounce

green chiles

1 small can, chopped

12

ounce

Monterey Jack Cheese

1

cup

sour cream

10

medium tortillas
Toppings
3

springs cilantro chopped

3

green onions chopped

1

medium tomato chopped
Instructions
Preheat the oven to 425 F degrees.

Mix the chicken with 8 oz of the green chile enchilada sauce, the green chiles and half of the Monterey Jack cheese.

In another bowl, stir together the remaining enchilada sauce and the sour cream. Pour half of the sauce into a 9x13 inch baking dish.

Take a tortilla, top with a couple of tablespoons of the chicken mixture, then roll it up and place over the sauce in the baking dish. Continue with all the tortillas until they are all filled and rolled.

Pour the remaining sauce over the top of the tortillas, then sprinkle the remaining cheese evenly over the top.

Place the dish in the oven and bake for 25 minutes.

Top with chopped cilantro, green onions, and tomatoes before serving.
Notes
Store in an airtight container in the fridge for 3 – 4 days. If freezing store this dish in a freezer bag with the air pressed out. Thaw overnight in the fridge and reheat in the oven when completely thawed. This dish will last up to 3 months in the freezer.
Please keep in mind that nutritional information is a rough estimate and can vary greatly based on products used.
Well, very easy isn't it? You can make Layered Chicken Enchilada Casserole with Green Sauce any time you like. Cook with sincerity and use your heart, then your food will taste delicious.