Confused about how to cook delicious chicken breast? You can get ideas and inspiration in processing chicken meat here by cooking it following the fajita chicken breast casserole recipe that has proven to be great in taste. Don't hesitate, you should try to cook this chicken dish because it is guaranteed to perfect your family's dinner.
By only requiring a few simple ingredients and a few easy cooking steps, you can already provide the best delicious dishes for your husband and children. Just try it first, it's sure to make you happy.
If you want, you can also try making sheet pan shrimp fajitas which are so delicious. There are no difficult words if you really have the intention to want to learn all the delicious recipes.
Fajita Chicken Breast Casserole is also low in carbohydrates and is very suitable for your diet menu. Casseroles are an easy way to make fajitas.
There are not many ingredients that you have to prepare before trying to make fajita chicken breast casserole. Some of the ingredients are chicken breasts, sweet onions, shredded cheese etc. There are several choices of toppings that you can use if you like. So, so that you are not even more curious about the recipe, just check out the complete recipe below!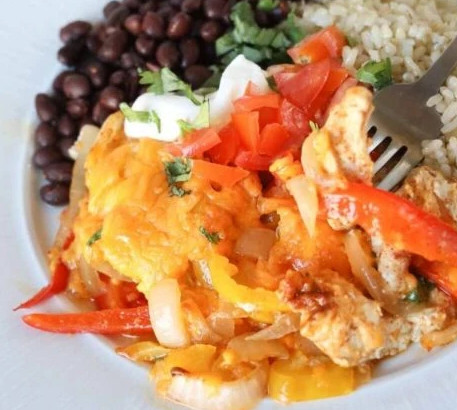 Fajita Chicken Breast Casserole
The best dish for your family dinner. Make sure you make Fajita Chicken Breast Casserole with the best taste. Simple, delicious and satisfying!
Ingredients
1 1/2

pounds

chicken breasts or boneless skinless chicken thighs sliced into bite sized strips

2

tablespoons

olive oil or avocado oil

1

tablespoon

fajita seasoning mix

2

cups

sliced sweet bell peppers

2

cups

sliced sweet onions I used Vidalia

shredded cheese cheddar

Monterey Jack or Mexican blend
Optional Toppings for the Chicken Fajita Bake
fresh chopped avocado or guacamole

fresh cilantro

diced tomatoes

sour cream
Instructions
Preheat oven to 400 degrees F.

Drop the peppers, onions and sliced chicken into the casserole dish. (No need to prep the baking dish.)

Pour on the fajita seasoning and oil. Mix well with a wooden spoon or gloved hands.

Spread the shredded cheese over the top.

Bake for 35-40 minutes, until the cheese is golden brown at the edges and a thermometer inserted in center of casserole reaches 165 degrees F.

Serving with your prefered sides and toppings, or in tortilla wraps.