Oven baked chicken thighs can be the best choice for your family's meal. Delicious, nutritious and can be a solution to fill a hungry stomach. Undoubtedly, chicken meat has indeed become one of the best types of meat that can be processed into various dishes and delicious food that arouses the taste buds. To make it you will not feel dizzy because it is very easy!
Are you confused about how to process chicken thighs? You must try Oven Baked Chicken Thighs now! It is guaranteed that you and your family will eat with gusto and your heart will be happy because of the delicious taste of this chicken dish.
It only requires a few ingredients and a few easy steps to cook it. Oven Baked Chicken Thighs really can perfectly complement every beautiful moment, including your dinner!
If you really like chicken, of course you are always excited to cook a variety of delicious chicken dishes. You can be creative in your kitchen by making chicken dishes that you like. If you want to get more ideas and inspiration in cooking chicken, try making crispy cheddar chicken! It's so delicious and so satisfying!
Now, you don't need to be confused about cooking the chicken thighs you have. You can cook it into the best chicken dish by following this recipe!~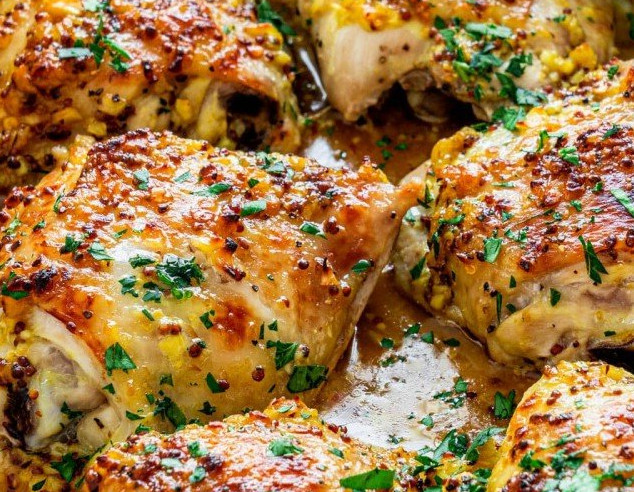 Oven Baked Chicken Thighs
Very simple and has a special taste. You should try it now and immediately feel the perfection of its taste. You and your family will be very surprised by the special taste of this dish!
Ingredients
2

pounds

chicken thighs bone-in skin-on

1

teaspoon

black pepper or to taste

1

teaspoon

salt or to taste
Sauce
1

tablespoons

mustard

2

tablespoons

honey

2

tablespoons

olive oil

1

tablespoons

whole grain dijon mustard

6

cloves

garlic minced

¼

teaspoon

red pepper flakes
Instructions
Preheat the oven to 425 F degrees.

Place the chicken thighs in a bowl and season them generously with salt and pepper.

Whisk all the sauce ingredients together in a small bowl.

Pour the sauce over the thighs and toss them well.

Transfer the chicken thighs to a 9x13 inch baking dish including any remaining sauce. No need to grease the dish.

Transfer the baking dish to the oven and bake for about 35 minutes or until the chicken thighs have an internal temperature of 165 F degrees and skin is crispy.

Transfer the chicken to a serving plate, cover with aluminum foil and let it rest for 10 minutes before serving.
Notes
Boneless skinless chicken thighs can also be used, but they will bake fast, they should only require 20 to 25 minutes in the oven.
The honey mustard glaze is completely optional. For a simpler chicken thigh recipe, simply season the thighs with salt and pepper, drizzle a couple tbsp of olive oil in the baking dish and bake as instructed.
When stored or wrapped well, this oven baked chicken is going to last in the fridge for up to 3 days. I recommend freezing it to extend its shelf life. When stored in a sealed airtight container, the chicken will last in the freezer for 4 - 6 months.