One of my favorite things about summer is the bounty of fresh herbs that are just outside my doorstep. Fresh herbs make any meal instantly more flavorful and beautiful. My favorite thing to do with all of those fresh herbs (aside from sprinkle them on everything) is to make pesto! It's especially great for lazy summertime cooking. I like to dollop it on grilled vegetables, pasta, spaghetti squash, salads, eggs, toasted bread, pizza, sandwiches… you get the idea. With just a few easy steps, it makes anything an instant tasty meal whether you feel like cooking or not.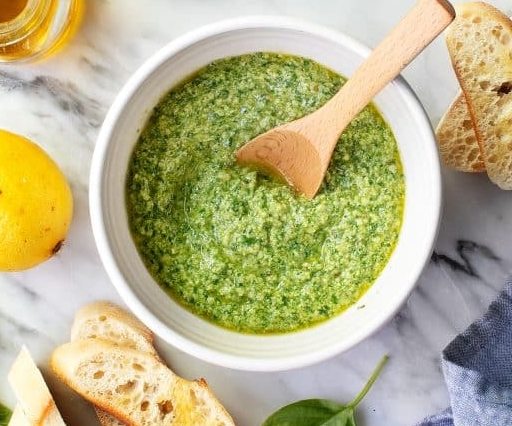 Basil Pesto
A classic basil pesto recipe, plus many more variations to try!
Ingredients
Basic Basil Pesto:
1/2

cup

toasted pine nuts

2

tablespoons

lemon juice

1

small garlic clove

1/4

teaspoon

sea salt

freshly ground black pepper

2

cups

basil leaves

1/4

cup

extra-virgin olive oil

more for a smoother pesto

1/4

cup

grated parmesan cheese

optional
Variation: replace the basil with:
Mint

Cilantro

Parsley

Spinach
Variation: replace half the basil with:
1

cup

arugula

1

cup

chopped kale

1

cup

cubed raw zucchini

4

artichoke hearts

1

roasted red pepper

1/2

an avocado

1/2

cup

kale stems

boil until soft
Variation: replace the pine nuts with:
Walnuts

Pistachios

Almonds

Pecans

Pepitas

Hemp Seeds
Variation: for something extra, add:
Nutritional yeast

in place of the parmesan

Pinches

of red pepper flakes

1

charred jalapeño

2 to 4

sun dried tomatoes

Splash of honey or maple syrup

if your pesto is too sharp
Instructions
In a food processor, combine the pine nuts, lemon juice, garlic, salt, pepper, and pulse until well chopped.

Add the basil and pulse until combined.

With the food processor running, drizzle in the olive oil and pulse until combined. Add the parmesan cheese, if using, and pulse to briefly combine. For a smoother pesto, add more olive oil.