You should know Easy dessert egg rolls at home. There are many choices of recipes and the recipes that I will share here will definitely help you in making them. Dessert should not be arbitrary, must be tasty and satisfying.
Egg rolls are a delicious snack option for families. You can enjoy it as a special dessert. If you're looking for ideas and guidance on making delicious egg rolls, you've come to the right place. Here you can get a collection of recipes easily.
Easy Dessert Egg Rolls at Home
1. Oreo Egg Rolls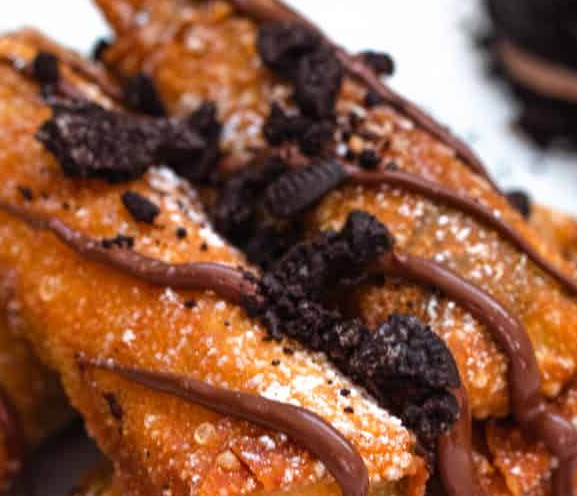 Ingredients
½ cup Sweetened Condensed milk
1 8 oz block Cream cheese, softened
1 cup powdered sugar + more for dusting
1 cup mini Oreos crushed into rough pieces (not crumbs)
15 Egg Roll Wrappers
1 Egg
Vegetable oil for frying
Instructions
In a large bowl, use an electric hand mixer to beat the sweetened condensed milk, powdered sugar, and cream cheese together until smooth.
Place the mini Oreos in a plastic bag, and roll with a rolling pin until the Oreos are crushed into rough pieces (you don't want them to be crumbs, but instead larger, rougher pieces).
Crack the egg into a small bowl and beat it with a fork. Set aside.
Lay an egg roll wrapper in a diamond shape, with one corner pointing towards you and one corner pointed away. About ⅓ of the way up the wrapper, place about 1 ½ tbsp of cream cheese filling (or more) in a horizontal line, leaving about ½" on the right and left sides. Sprinkle some Oreo crumbs on top of the cream cheese filling.
Fold up the bottom corner to cover the filling and roll once. Wrap in the two side corners, then continue wrapping until you get to the final, far corner. Wet it with a bit of the beaten egg to hold it in place, then stick the final corner to the egg roll (see photos for clearer explanation).
Heat about 2" of oil until it's hot enough that when you add an egg roll, it begins to fry immediately. Deep fry the egg rolls in batches, about 4 at a time, turning them so that they cook evenly… When they are brown and the wrapper has bubbled, remove them from oil and let them rest on a paper towel-lined plate to remove excess oil.
Sprinkle with powdered sugar and enjoy!
Notes
Standard Ingredients: Sweetened Condensed milk, Powdered sugar, egg
Cream Cheese: Full fat, softened
Oreos: I used the mini version of the regular flavor, and crushed them with a rolling pin.
Egg Roll Wrappers: I got my egg roll wrappers from the frozen section of an Asian Grocery store. Make sure to leave the wrappers in the fridge the night before cooking so that they thaw.
Oil: Vegetable Oil is what I used. You can also use sunflower oil or any other type of oil with a low smoking point.
Don't forget to thaw your egg rolls wrappers the night before making your Oreo Egg Rolls!
You can also bake the egg rolls, though they will have a different texture. Place the oven to 400 and bake until they are toasted, turning every once in a while.
When rolling the egg rolls, place the rest of the wrappers in a sealed ziplock bag. You can also wet a paper towel and ring it out VERY well so that it's barely damp, then cover the wrappers with this. This will make it so that the wrappers don't try out and get fragile.
If you'd like to replace the cookie in the recipe with another option, you are welcome to do that! Another great choice could be nutter butters.
You can also melt chocolate chips in the microwave and drizzle some melted chocolate over the top of the dessert for some added decorative flair.
2. Apple Pie Egg Rolls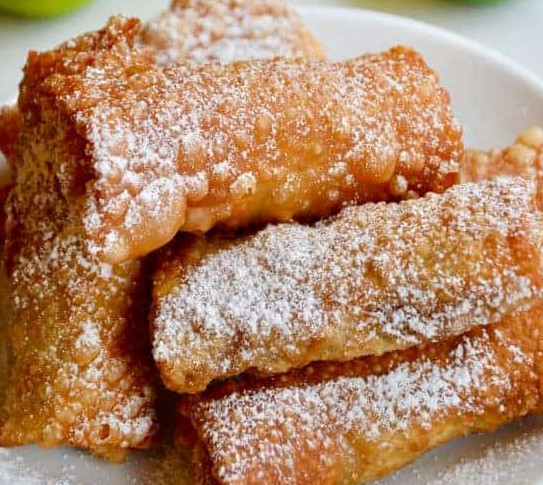 Ingredients
2 teaspoons cornstarch
1 teaspoon vanilla extract
8 egg roll wrappers
Vegetable oil, for frying
Whipped cream or caramel sauce, for serving (optional)
3 medium Granny Smith apples, peeled and diced into 1-inch pieces
1 Tablespoon lemon juice
3/4 teaspoon cinnamon
1/4 cup sugar
Instructions
In a medium saucepan set over medium-high heat, combine the diced apples, lemon juice, cinnamon and sugar.
In a small bowl, whisk together the cornstarch with 1/3 cup water then add it to the apple mixture. Stir together the mixture then bring it to a boil and cover it. Reduce it to a simmer and cook the mixture until the apples have softened slightly and the mixture has thickened, about 5 minutes.
Remove the apple mixture from the heat, stir in the vanilla extract then transfer the mixture to a bowl to cool completely.
Fill a small dish with water and line a baking sheet with paper towels.
Once the apple mixture has cooled completely, arrange the egg roll wrappers on a dry work surface then using a slotted spoon, portion about 1/4 cup of the apple mixture in the lower third of each wrapper. Beginning at the bottom of the wrapper, roll the egg roll up while folding the edges inward. Wet your finger in the water and run it around the edges then seal the egg rolls shut.
Add at least 4 inches of oil to a large, heavy-bottomed stock pot set over medium-high heat and attach a deep-fry thermometer to the side. Once the oil reaches 360°F, add 3 to 4 egg rolls and fry, turning occasionally, until golden brown. Remove the egg rolls from the oil and transfer them onto the baking sheet. Repeat the frying process with the remaining egg rolls, returning the oil to 360°F between batches.
Serve immediately with whipped cream or caramel sauce for dipping.
You may also like: Lemon Blueberry Crumble Bars
3. Peach Cobbler Egg Rolls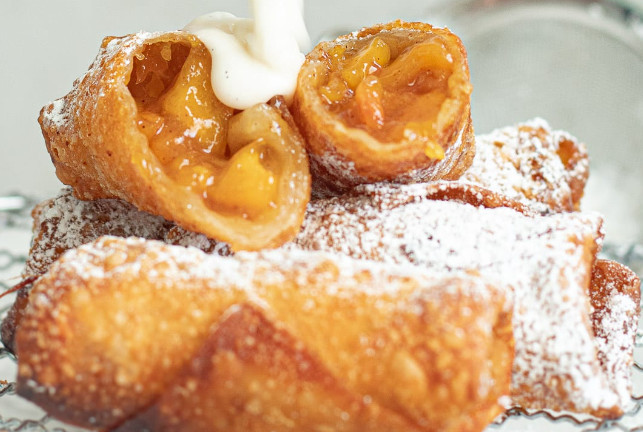 Ingredients
2 cups chopped peaches – fresh, frozen, or canned (see below)
1 tablespoon fresh lemon juice
½ teaspoon ground cinnamon
½ teaspoon pure vanilla extract
10 egg roll wrappers
2 tablespoon salted butter – or use unsalted and add a pinch of salt
½ cup light brown sugar
4 tsp cornstarch
2 tbsp water – for brushing
powdered sugar – for dusting (optional)
vegetable oil – for frying
Vanilla Bean Dipping Sauce
½ teaspoon vanilla bean paste – or vanilla extract
¾ cup powdered sugar
2-3 tablespoons milk
pinch salt
Instructions
In a small saucepan, heat chopped peaches, lemon juice, butter, brown sugar, cornstarch, and cinnamon.
2 cups chopped peaches,1 tablespoon fresh lemon juice,2 tablespoon salted butter,½ cup light brown sugar,4 tsp cornstarch,½ teaspoon ground cinnamon
Bring to a boil, stirring, and then reduce heat to low and simmer, stirring occasionally, about 10 minutes or until thickened. Stir in vanilla extract, then set aside to cool.
½ teaspoon pure vanilla extract
To assemble egg rolls, place an egg roll wrapper on a clean surface with one corner facing you. Brush the edges with water. place about 2 tablespoon of cooled peach filling in the center.
10 egg roll wrappers,2 tbsp water
Fold sides in while rolling until egg roll is rolled and sealed. Repeat with remaining wrappers.
Preheat oil to 350°F. Cooking in batches, carefully place egg rolls into hot oil and fry until deep golden brown, about 5-6 minutes.
vegetable oil
Remove egg rolls to a wire rack placed over a paper towel to drain and cool. Once cool, dust with powdered sugar, if desired.
powdered sugar
Vanilla Bean Dipping Sauce
Whisk together powdered sugar, milk, and vanilla bean paste.
¾ cup powdered sugar,2-3 tablespoons milk,½ teaspoon vanilla bean paste
Whisk in a pinch of salt to taste and use to dip cooled egg rolls.
pinch salt
Notes:
Canned Peaches: You can definitely make these peach cobbler egg rolls with canned peaches. Just drain a can of peaches in juice or water (not syrup), chop them up a bit and add them to the peach filling like you would fresh or frozen peaches! You may want to use about a teaspoon less of your brown sugar.
Vegan Version: If you use vegan egg roll wrappers (which I do – the Nasoya brand), you can just substitute vegan butter in your peach filling and make these peach egg rolls vegan friendly! And I love that idea! Make your dipping sauce with a little plant milk and you're good to go!
Make Ahead: I would suggest preparing the egg rolls without frying them, then storing them in the fridge in an airtight container for up to 2 days until ready to fry them! That way you can save time and make these at the most convenient time!
4. Cinnamon Roll Egg Rolls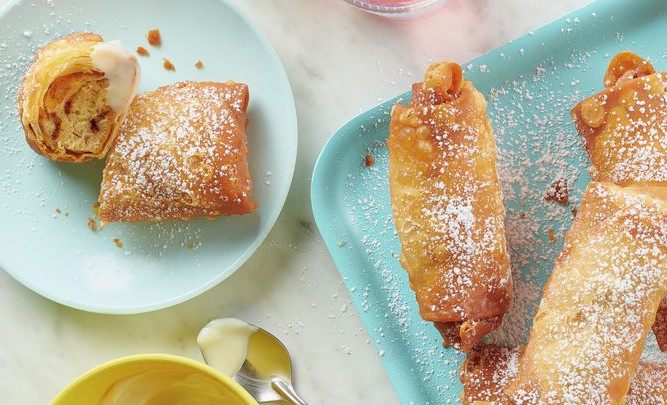 Ingredients
Egg Rolls
1 can (12.4 oz) refrigerated Pillsbury™ Cinnamon Rolls with Original Icing (8 Count) or 1 can (12.4 oz) refrigerated Pillsbury™ Cinnamon Rolls with Cream Cheese Icing (8 Count)
8 large egg roll skins or wrappers (from 16-oz package)
Vegetable oil, for frying
Icing
4 oz cream cheese (from 8-oz package), softened
2 tablespoons powdered sugar, plus additional for sprinkling
Ingredients
Bake cinnamon rolls as directed on can; cool 10 minutes.
On damp paper towel on work surface, place 1 egg roll skin with 1 corner facing you. Place 1 cinnamon roll on corner facing you, pressing slightly on roll to flatten, while folding same corner of egg roll skin over roll, tucking in sides. Brush remaining corner with water; gently roll egg roll toward remaining corner, and press to seal. Cover filled egg roll with damp paper towel to prevent drying out. Repeat with remaining egg roll skins and cinnamon rolls.
In deep fryer or 4-quart heavy-duty saucepan or Dutch oven, heat 2 to 3 inches oil to 350°F. Fry egg rolls, 2 to 3 at a time, in hot oil 3 to 5 minutes, turning once, until golden brown. Drain on paper towels.
In small microwavable bowl, mix icing (from cinnamon roll can), cream cheese and 2 tablespoons powdered sugar with spoon, until stirred smooth. Microwave icing mixture uncovered on High 15 to 30 seconds or until thin enough for dipping. Sprinkle egg rolls with powdered sugar, and serve with icing mixture.
5. Blueberry Cream Cheese Egg Rolls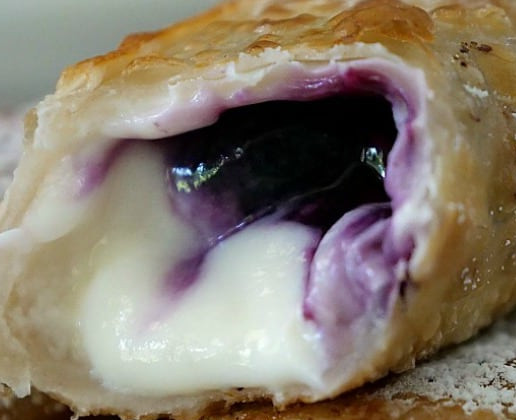 Ingredients
For The Blueberry Filling
2 cups fresh blueberries
⅓ cup sugar
1 tbsp lemon juice
7 tbsp water, divided
3 tbsp cornstarch
For The Cream Cheese Filling
8 oz cream cheese, room temperature
⅓ cup sugar
1 tsp lemon juice
1 tsp vanilla
12 egg roll wrappers
2+ cups vegetable oil
¼ cup powdered sugar, for dusting
Instructions
For The Blueberry Filling
In a small sauce pan over medium heat, add blueberries, sugar, 3 tablespoons water and lemon juice. Stir and cook until blueberries have burst, approximately 3-4 minutes after coming to a boil.
In a small bowl, mix remaining water and cornstarch until combined then add to blueberry mixture.
Continue stirring until blueberry mixture has thicken. Remove from heat and let cool.
For The Cream Cheese Filling
In a medium bowl, using a hand mixer, beat cream cheese until fluffy, about 2-3 minutes.
Add sugar, vanilla extract and lemon juice. Beat for an additional 2 minutes.
Assembling The Egg Rolls
Add a couple tablespoons of cream cheese mixture, in the center of the egg roll wrapper followed by a heaping spoonful, or two, of the blueberry filling on top of the cream cheese filling.
Using your fingers, dip finger into water and rub water along the edges of the wrapper (this will help seal the egg roll closed).
Tightly fold in sides over the filling and then roll the front edge up over the filling and towards the back.
Heat oil in a large skillet over medium heat, or frying pan to 375 degrees.
Add egg rolls, a few at a time, to pan and cook for a few minutes per side or until golden brown.
Transfer to a paper towel lined plate to cool.
Sprinkle with powdered sugar right before serving.
6. Pecan Pie Egg Rolls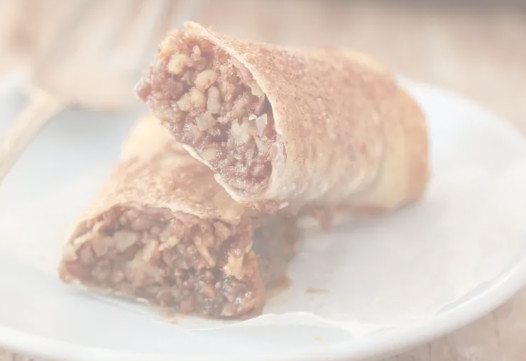 Ingredients
1 ½ tablespoons (41g/1½ oz) butter, melted
⅔ cups (85g/3 ¼ oz) brown sugar
2 tablespoons maple syrup
1 teaspoon vanilla
⅛ teaspoon salt
1 egg
1⅓ cup (120g / 4oz) pecans, toasted and finely chopped
12 Egg Roll Wrappers
1 egg , scrambled for eggwash
Cinnamon sugar
Instructions
Mix all ingredients together in a bowl and place in the refrigerator for 30 minutes to cool.
Take bowl out and mix with a spoon
Scoop two heaping tablespoons onto egg roll wrapper and fold sides over to secure the filling in the middle. The filling can be quite runny, so use a dab of water to glue the wrapper to itself to hold it together.
Place rolls on baking sheet and brush with egg wash and sprinkle with cinnamon sugar
Bake at 375oF (190oC) for 15 minutes.