Have you ever tried chicken souvlaki before? I did on my most recent trip to Greece and I have been obsessed with it ever since!
My husband and I were lucky enough to go to Greece in 2019 and, while we were there, we had a driver that shared some of his family recipes.
Lucky for me- chicken souvlaki was one of them and it has been a hit with my family (even my little's). It's tender, juicy, and packed with flavor! This easy Greek chicken souvlaki recipe will make you feel like you are right in Greece.
All you need is chicken breasts and a few other simple ingredients to make a flavorful chicken souvlaki marinade. Then, thread it onto skewers and grill it to perfection.
The great thing about this recipe for souvlaki is that it's so versatile. You can use any kind of protein from pork and chicken- even some lamb! Our personal favorite is chicken, but you use whatever you like.
This classic Greek street food is going to become one of your family's favorite dinners!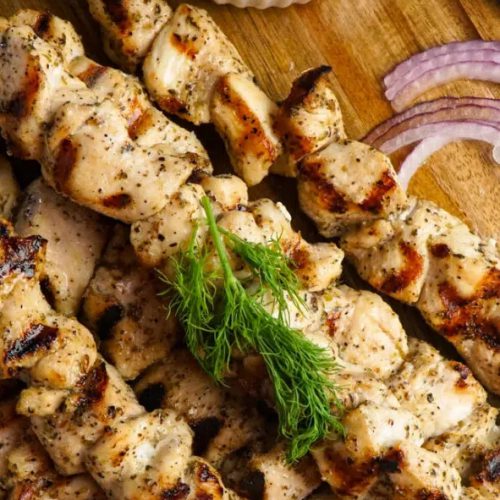 Greek Chicken Souvlaki Recipe
Greek chicken souvlaki is a delicious Greek dish that you can make at home! The recipe calls for only a few ingredients and the marinade is easy to prepare. This recipe takes about 2 hours to make from start to finish. But, with a bit of planning (and a delicious homemade chicken souvlaki marinade), it's worth it because the end result will be crispy, flavorful chicken on top of pita bread with all sorts of vegetables. You'll feel like you're sitting in Santorini while eating this amazing meal!
Ingredients
2

pounds

boneless

skinless chicken breasts (cut into 1-inch pieces)

½

cup

vegetable oil

¼

cup

fresh-squeezed lemon juice

2½

teaspoons

oregano

1½

teaspoons

kosher salt

1½

teaspoons

ground black pepper

1½

teaspoons

garlic powder

½

teaspoon

celery seed

½

teaspoon

sugar

½

teaspoon

onion powder
Instructions
Combine vegetable oil, herbs, and spices into a 1 gallon freezer bag. Seal and shake until well combined.

Add cubed chicken into the marinade and seal the freezer bag. Shake the chicken in the bag to coat the chicken. Marinate for at least 1½ hour or overnight in the refrigerator.

While chicken is marinating soak wooden in skewers in water for at least 30 minutes.

Remove the chicken from the marinade and place 8-10 pieces of chicken on each skewer.

Preheat your grill to medium about 400 degrees. Place prepared kabobs on the grill and cook for 5-7 per side until the chicken reaches 165 Degrees.

Remove from grill and serve.
Notes
If you use wooden skewers make sure you soak them in water for at least 30 min. This will help the skewers not burn when you are grilling.
This recipe is so versatile. Mix it up, try adding tons of different veggies to add different flavors!
NUTRITION
Serving: 1g
Calories: 354kcal
Carbohydrates: 4g
Protein: 33.6g
Fat: 22.3g
Saturated Fat: 5g
Cholesterol: 101mg
Sodium: 1200mg
Potassium: 351mg
Fiber: 1.4g
Sugar: 0.9g
Calcium: 60mg
Iron: 3mg