Confused about what to eat for dinner? Maybe Air Fryer Hamburgers can be the answer. Providing a delicious dinner dish is indeed a must. If you want to enjoy a great hamburger, give this recipe a try. It has been proven to be delicious and very easy to make.
My mom really likes this food and after I tried it it was really good. So, there's nothing wrong if you also try to make it now. Air fryer hamburgers have a special characteristic and taste. You don't have to worry about a difficult dinner because these burgers are more than enough to give you the best dinner experience.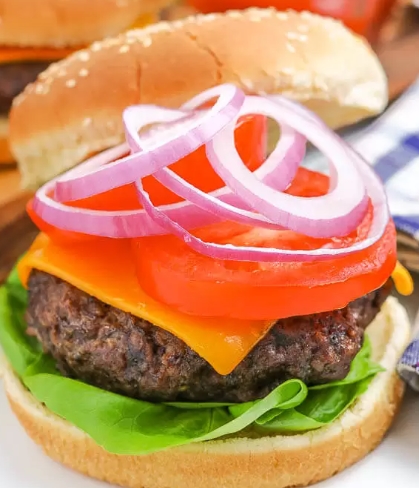 Air fryer hamburgers
Air fryer hamburgers are very easy to prepare. Simple, delicious and satisfying!
Ingredients
1

pound

lean ground beef

½

teaspoon

salt

½

teaspoon

paprika

½

teaspoon

garlic powder

½

teaspoon

ground pepper

½

teaspoon

onion powder

Toppings

Cheese

Bacon

Pickles

Ketchup

Mustard

Barbecue sauce

Buns

Red onion

White onion

Lettuce

Tomato

Mayo
Instructions
In a medium bowl, combine ground beef and seasonings until well combined. Don't over work the meat though, it will become tough.

Divide beef into 4 equal portions, roll into balls and form into patties

Preheat Air Fryer to 370 degrees F

Add patties in a single layer into the basket

Cook for 6-7 minutes, flip burgers and continue cooking until internal temperature reaches 160 degrees F, about 3-5 minutes

Add cheese, if using, and cook until cheese is melted, about 1 minute.

Serve immediately with your favorite toppings
You may also like: Mushroom Melt Burger