Baked chicken nachos are a type of nachos that are made with diced or shredded cooked chicken and other toppings. They are typically baked in the oven until the cheese is melted and bubbly, and are often served as an appetizer or snack.
To make baked chicken nachos, tortilla chips are arranged in a single layer on a large baking sheet or in a shallow dish. A layer of diced or shredded cooked chicken is then spread over the top of the chips. The nachos are then topped with cheese and other toppings, such as diced tomatoes, onions, jalapeno peppers, and black beans. The nachos are baked in the oven until the cheese is melted and bubbly, and are then garnished with additional toppings such as chopped cilantro, diced avocado, or sour cream. Baked chicken nachos are a delicious and satisfying snack that are sure to be a hit with any crowd.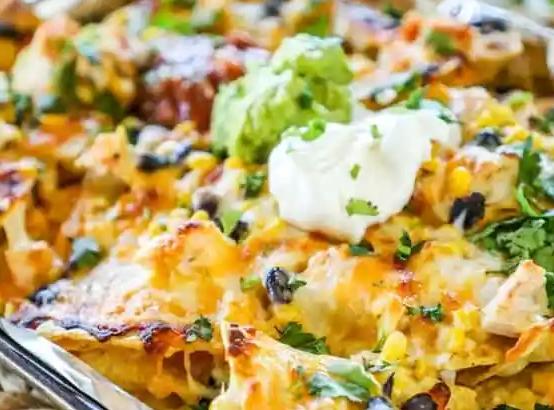 Baked Chicken Nachos
These baked nachos are a great way to feed a crowd or an easy weeknight dinner that the kids will love!
Ingredients
1

bag tortilla chips

2

cups

shredded chicken

16

oz

sharp cheddar cheese

1

can black beans drained

1

sweet bell pepper any color

1

can corn drained
For topping:
salsa

guacamole

sour cream

cilantro chopped
Instructions
Line a large sheet pan with foil. Then spread the bag of chips over it as spread out as possible.

Sprinkle half the cheese over the nachos. Then evenly top them with the black beans, corn, chopped pepper, and chicken. Spread the remaining cheese over the top.

Place in an oven preheated to 425˚F and bake the nachos for 10-15 minutes or until they are heated through and the cheese on top is just starting to brown.

Remove from the oven and top with your choice of guacamole, salsa, sour cream, and fresh chopped cilantro.