If I had to describe this soup in one way for you, I would say it's like a creamy chicken noodle soup with cheesy tortellini instead of the egg noodles that traditional chicken noodle soup calls for. It also kinda sorta reminds me of the chicken gnocchi soup from Olive Garden.
I've never had it before, but I know friends who would give away their first born for it. I'm not a huge fan of the Olive Garden — i'm the only one out there, aren't I? I just prefer the love and care that goes into homemade soups — an ingredient the Olive Garden really can't add. Also, gnocchi isn't my thing. No shocker there right? I'm a texture girl, and gnocchi kind just resembles mush.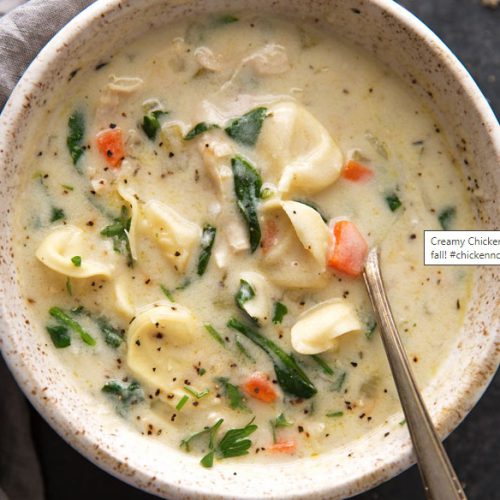 Creamy Chicken Tortellini Soup
This creamy chicken tortellini soup is the epitome of comfort food! It's a luxurious combination of cooked chicken, carrots, baby spinach, and a hint of nutmeg to warm everything up. It's sure to be a hit with everyone!
Ingredients
12

oz

of cheese tortellini

4

tablespoons

butter

salted/unsalted either will work

5-6

cloves

garlic

minced

2 ½

cups

mirepoix mix

a combination of chopped onions, carrots, and celery

1/3

cup

all purpose flour

2

cups

packed baby spinach

roughly chopped

3

cups

chicken or vegetable broth

3 ½

cups

milk

see notes

2

cups

cooked chicken

shredded or diced

¼

teaspoon

nutmeg

see notes

½

teaspoon

dried thyme

parsley

for serving
Instructions
Prepare the tortellini according to directions listed on the package. (Note: you want the tortellini to finish cooking about the same time that the soup is finished cooking).

In a large pot over medium-high heat melt the butter and sauté the mirepoix mix for 6-8 minutes or until the onions start to turn translucent. Add the garlic and cook for 30 seconds or until it's fragrant.

Add the flour and continue to cook for another 1-2 minutes or until the flour is completely mixed in and starts to just barely become a light golden color. Add the milk in a steady stream while you stir. This is helps loosen up the flour mixture. Add the chicken broth. Allow soup to come to a boil, keep stirring as necessary so that nothing sticks to the bottom of the pot. Add the chicken, tortellini, baby spinach, along with the thyme and nutmeg and stir. Let everything come back to a simmer before turning the stove off. You want to serve this immediately so that the tortellini doesn't soak up all the liquid. Top with parsley and serve with crusty bread if desired.
Notes
You can replace ¼ - 1 cup of the milk with half and half or heavy cream to make this a more decadent soup. The original recipe (posted Oct 3, 2014) called for ½ cup of half and half.
To make this soup with the original recipe use: 3 cups milk + ½ cup half and half + ½ teaspoon nutmeg. Everything else remains the same
If you're anticipating leftovers, you may want to keep the tortellini separate and just add it into your soup bowl. This will keep it from soaking up all the soup when refrigerated. Also, you may need additional milk/broth when reheating.