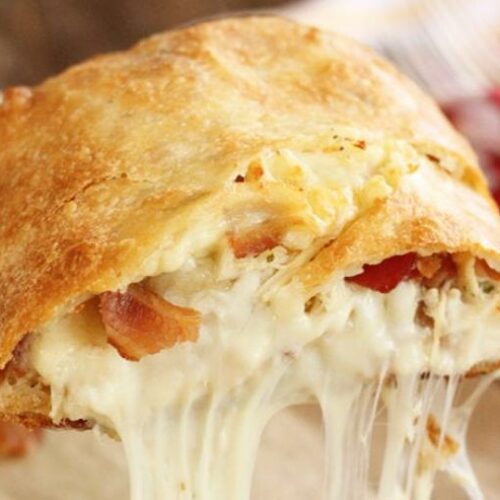 Chicken Bacon Ranch Stromboli
Ingredients
2

cups

shredded rotisserie chicken

1

11-ounce can thin crust refrigerated pizza dough

1/2

cup

chopped cooked bacon

1/2

cup

prepared ranch dressing plus more for dipping

2

cups

shredded mozzarella cheese
Instructions
Preheat the oven to 400°F and line a large baking sheet with parchment paper.

Roll out the pizza dough thin and even on the prepared baking sheet.

Spread dressing on the dough, leaving a 1-inch border around the edges.

Sprinkle chicken, bacon, and cheese evenly over the dressing.

Roll up the dough like a jelly roll, starting from one side and using the parchment to help you roll.

Place the stromboli on the baking sheet with the seam side down. Tuck the ends under.

Make several diagonal slits on the crust.

Bake for 15-25 minutes or until golden brown.

Serve warm with extra dressing for dipping.