Experience the ultimate satisfaction of a quick and delightful dinner with our unique recipe. Crafted with ground beef, marinara sauce, shell pasta, and a medley of flavorful seasonings, this dish guarantees a moist and succulent meaty experience. The secret to its creamy texture lies in the addition of rich ingredients like heavy cream and sour cream.
Prepare to be mesmerized by the delectable fusion of marinara sauce and dairy, resulting in a truly tantalizing flavor profile enhanced by aromatic herbs. As if that weren't enough, we've generously incorporated a generous amount of cheddar cheese to take it to new heights of deliciousness.
Indulge in the perfect combination of protein and carbs, creating a hearty and satisfying meal all in one dish. Enjoy it as a standalone delight or pair it with a side of vegetables for a complete and wholesome lunch or dinner.
This beef and pasta sensation is not only loved by adults, but it's also a hit with kids. Enhance their dining experience by incorporating some broccoli, and witness their enthusiasm as they devour every last bite. With its easy-to-eat nature, each mouthful offers a harmonious blend of cheesy goodness and savory beef.
No need to worry about hectic weeknights, as this recipe is designed to accommodate your busy schedule. In under 30 minutes, you can savor the incredible flavors and satiate your cravings with minimal effort.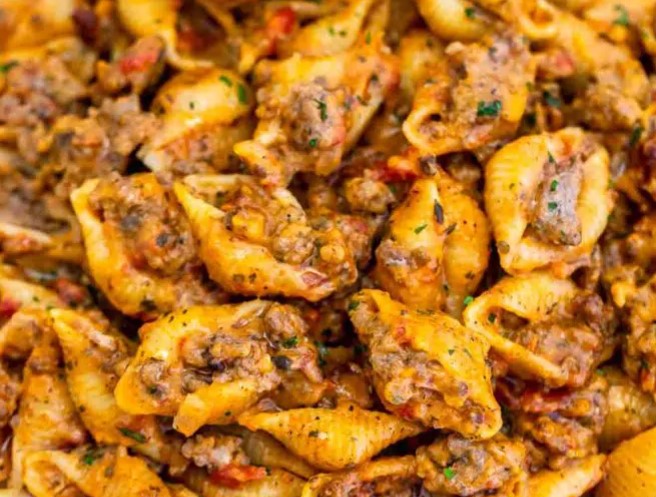 Creamy Beef and Shells
Creamy Beef and Shells is a hearty pasta dish that is perfect for a quick dinner for the whole family! It is rich, flavorful, and cheesy and even kids will love it!
Ingredients
8

ounces

medium pasta shells

1

tablespoon

olive oil

1

pound

ground beef

1

small sweet onion diced

5

cloves

garlic minced

1

teaspoon

Italian seasoning

1

teaspoon

dried parsley

1/2

teaspoon

dried oregano

1/2

teaspoon

smoked paprika

2

tablespoons

all-purpose flour

1

cup

beef stock

1

15oz can marinara sauce

3/4

cup

heavy cream

1/4

cup

sour cream

Kosher salt and freshly ground black pepper to taste

1 1/2

cups

cheddar cheese freshly grated
Instructions
Cook pasta according to package instructions in a large pot of boiling salted water and drain well.

Heat olive oil in a large skillet over medium high heat. Add ground beef and cook until browned, about 3-5 minutes, breaking it with a wooden spoon. Drain excess fat and set aside.

To the same skillet, add diced onion, and cook for 2 minutes, stirring frequently. Add garlic, and cook until fragrant, about 1 minute.

Whisk in flour until lightly browned, for about 1 minute.

Gradually whisk in beef stock and stir to combine. Add marinara sauce and stir in Italian seasoning, dried parsley, oregano, and paprika.

Bring to a boil, reduce heat and simmer, stirring occasionally, until reduced and slightly thickened, about 6-8 minutes.

Stir in cooked pasta, and add back beef.

Next, stir in heavy cream until heated through, about 1-2 minutes. Taste and adjust for salt and pepper.

After that, stir in the sour cream.

Next, fold in the cheddar cheese until melted, about 1-2 minutes.

Serve immediately, garnished with parsley if desired.