Creamy Garlic Pork Chops are a hearty and delicious main dish that is perfect for any night of the week. These tender pork chops are cooked to perfection and smothered in a rich and creamy garlic sauce that is full of flavor. The dish is easy to make and can be prepared in under 30 minutes, making it a great option for busy weeknights.
To make Creamy Garlic Pork Chops, start by searing the pork chops in a hot skillet until they are golden brown on both sides. Then, reduce the heat and add minced garlic to the skillet, cooking until fragrant. Next, add heavy cream, chicken broth, and a blend of herbs and spices to the skillet, stirring until the sauce thickens. Finally, return the pork chops to the skillet and cook until they are fully cooked and the sauce is creamy and flavorful. Serve these delicious pork chops with your favorite sides, such as roasted vegetables or mashed potatoes, for a satisfying and comforting meal.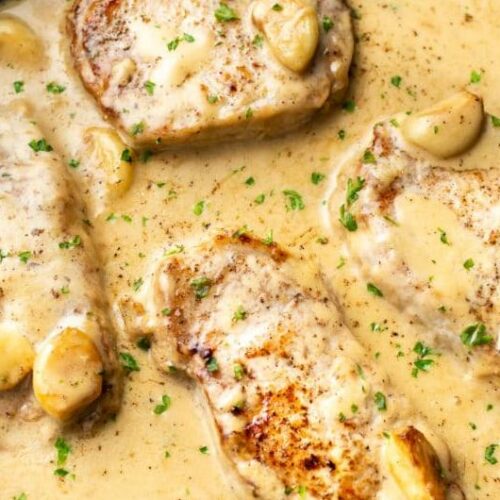 Creamy Garlic Pork Chops
Indulge in the creamy goodness of these pork chops that are coated in a delectable cream sauce infused with garlic and whole garlic cloves! The recipe is incredibly simple and can be prepared in under 30 minutes, making it a perfect choice for a quick and satisfying meal.
Ingredients
4

pork chops see notes

Salt & pepper to taste

1

tablespoon

olive oil

2

tablespoons

butter divided

1

whole head garlic cloves peeled

1

tablespoon

flour

1/2

cup

chicken broth or stock

1/2

teaspoon

lemon juice

1/4

teaspoon

garlic powder

3/4

cup

heavy/whipping cream

Fresh parsley chopped

optional, to taste
Instructions
Take the pork chops out of the fridge 15-30 minutes prior to starting the recipe if possible. Season the pork generously with salt & pepper on both sides.

In a deep skillet, add the olive oil and 1 tablespoon of the butter over medium-high heat. Let the pan heat up for a few minutes, and once it's hot, cook the pork chops for 3-5 minutes/side or until golden (3 minutes for thinner chops and 5 minutes for pork chops up to 1" thick). Once the pork chops are done searing, transfer them to a plate.

Add the remaining butter and the garlic cloves to the skillet. Turn the heat down to medium (or medium-low if using cast iron). Cook it, stirring fairly often, for about 3 minutes or until the garlic has somewhat browned on the outside.

Push the garlic to one side of the pan and sprinkle the flour in (avoiding the garlic). Let it cook for around 30 seconds, and give it a stir so it's incorporated with the butter (we're making a quick roux).

Add in the chicken broth and lemon juice. Stir and let it cook for about a minute or until the sauce is noticeably thickened.

Add in the cream and garlic powder. Stir or whisk it until the garlic powder has dissolved.

Add the pork back in and cook for another 3-5 minutes or until the sauce has thickened up a bit (let the sauce bubble a bit but not furiously boil) and the pork chops are fully cooked through (145F minimum). Keep in mind the pork's temperature will continue to rise once you stop cooking it, so if it's close, I'd take it off the heat and let it rest for a few minutes before serving. Season the sauce with extra salt & pepper as needed and parsley if you wish.
Notes
It's very easy to overcook pork and turn it into shoe leather. I highly recommend using an instant read thermometer to take the guesswork out. Pork that's 145F and pink inside is safe to eat.
You can use boneless pork chops like I did or bone-in. I recommend pork chops that are 0.75-1" thick. Anything much thicker or thinner is likely to end up under or overcooked with this particular recipe since it's finished in the cream sauce.
Nutritional information is provided as a courtesy only and should be construed as an estimate rather than a guarantee. Ingredients can vary and Salt & Lavender makes no guarantees to the accuracy of this information.