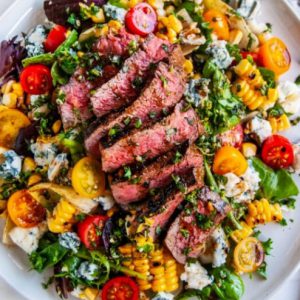 Balsamic Steak Gorgonzola Salad with Grilled Corn
A 20 minute, delicious steak and salad dinner recipe with tomatoes, red onion, home grilled corn, gorgonzola cheese crumbles, gremolata and balsamic vinaigrette. Perfect for the summer grilling months!
Ingredients
FOR THE MARINADE
1

lb

sirloin steak

2

tablespoons

balsamic vinegar

1

tablespoon

Worcestershire sauce

1/4

cup

extra virgin olive oil

1/2

teaspoon

dijon mustard

1/4

teaspoon

garlic powder

1/2

teaspoon

coarse salt

1/4

teaspoon

ground black pepper
FOR THE SALAD
1

cup

cherry tomatoes

halved

1/2

red onion

thinly sliced

4

ounces

Gorgonzola cheese

crumbled

2

heads endive lettuce

outer leaves removed, halved and roughly chopped into 2 inch pieces

6

cups

mixed spring greens

1

corn on the cob

husk removed

1

tablespoon

extra virgin olive oil

for drizzling corn
FOR THE GREMOLATA
2

tablespoons

basil leaves

minced

2

tablespoons

parsley

minced

1

clove

garlic

minced

1

tablespoon

lemon zest
FOR THE BALSAMIC VINAIGRETTE
3

tablespoons

balsamic vinegar

½

cup

extra virgin olive oil

½

teaspoon

dijon mustard

Dash of salt and fresh ground black pepper
Instructions
Marinate the steak: In a medium size bowl, stir together ingredients for the marinade. Place steaks in a large ziplock bag. Pour marinade over the steaks, seal the bag, and shake to coat. Chill in the fridge for 30 minutes.

Make the gremolata: Combine the basil, parsley, lemon zest, and garlic in a small bowl. Set aside.

Preheat a cast iron grill pan at medium-high heat or an outdoor grill. Drizzle corn on the cob with 1 tablespoon olive oil and liberally sprinkle salt and pepper. Using tongs, place on the heated grill. Cook each side until grill marks form on the corn kernels and they are somewhat softened, about 10 minutes total. Remove from heat when done and let cool. Slice corn kernels off the cob.

Remove the steak from the fridge. Place on the grill or grill pan. Grill both sides 4-5 minutes for rare to medium rare. Remove steak to a plate and let rest for five minutes. Slice thinly against the grain.

In a small bowl, whisk together ingredients for vinaigrette.

Toss together half of the vinaigrette, half of the gremolata, mixed greens, endives, tomatoes, gorgonzola, sliced corn, and red onion in a large bowl.

Lay sliced steak on top of salad. Drizzle steak and salad with gremolata and remaining vinaigrette as desired.