How to make delicious cottage pie is very easy and you can learn the recipe and then practice making it yourself at home. Typical British food that is so delicious and great for your family dinner.
The ground beef is so tender combined with the soft potatoes. You can be sure, you will immediately fall in love with the delicious taste.
Just imagine, when you are very hungry, then cottage pie is served on the dining table, guaranteed, you will eat it up very quickly.
The ingredients used in making cottage pie are very simple and you are guaranteed to have no trouble preparing them. So that you are not curious, just take a look at the complete recipe below!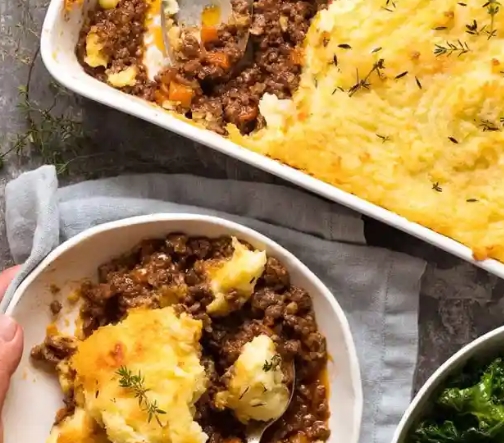 How to Make Delicious Cottage Pie
Great food you must try now! It's delicious, easy, simple and sure to make your dinner even more perfect!
Ingredients
1

carrot

finely chopped*

1

celery

finely chopped*

1 1/2

tbsp

olive oil

2

garlic cloves

minced

1

onion

finely chopped

750

g

/ 1.5 lb beef mince

ground beef

2

cups

500 ml beef stock / broth , low sodium

1/2

cup

125 ml red wine (or water)

2

tbsp

Worcestershire sauce

1

tsp

dried thyme

or 3 sprigs fresh thyme

2

dried bay leaves

3/4

tsp

salt

1/2

tsp

black pepper

1/4

cup

40g flour (plain / all purpose)

1/4

cup

55g tomato paste

1

beef bouillon cube

crumbled (stock cube, or 1 tsp stock powder)
Topping
1.2

kg

2.5 lb potatoes

peeled and cut into 2.5cm / 1" cubes

2

tbsp

(30g) butter

2/3

cup

(165ml) milk

warmed
Parmesan Crust (optional)
2

tbsp

(20g) parmesan

grated

2

tbsp

(30g) butter
Instructions
Heat oil in a large skillet over medium high heat. Add onion and garlic, cook for 1 minute. Then add carrots and celery. Cook for 3 minutes or until softened and sweet.

Turn heat up to high. Add beef and cook, breaking it up as you go, until browned.

Add flour and mix in. Add tomato paste, broth, red wine, bouillon cube, Worcestershire sauce, thyme, bay leaves, salt and pepper.

Bring to simmer, then turn down heat so it is simmering rapidly - I have it on medium high. Cook for 30 minutes, stirring occasionally, until it reduces down to a gravy consistency (Note 1) (see video). Taste then add more salt if desired.

Transfer to 6 cup pie dish (1.5 litre / quart). Cover, cool if you have time (even overnight). Cool filling = easier to top with mash (Note 2)
Assemble Pie
Preheat oven to 180°C/350°F.

Cook potatoes in boiling water for 15 minutes or until soft. Drain then return to pot on turned off stove. Shake briefly and allow to steam dry for 30 seconds or so (Note 3).

Add butter and mash until melted, then add milk and salt. Mash until smooth.

Spread onto pie, use a fork to rough up the surface (rougher surface = more golden bits). Sprinkle with paremsan, drizzle with butter (or skip this and just drizzle with olive oil)

Bake for 25 - 30 minutes or until golden on top and bubbling on the edges. Stick a knife into the middle to ensure it is piping hot.

Stand for 5 minutes before serving, garnished with fresh thyme leaves if desired.
Notes
* Carrots and celery are used to make a truly great mirepoix / soffrritto flavour base for this pie. However, they can be omitted, but add 1 tsp of sugar instead.
1. Filling thickens - Whatever the thickness of the sauce when you pour it into the tin, that's what it will be once baked - no steam escapes while baking to allow it to reduce any further. So keep cooking until it's the consistency you want.
2. Cooling the filling ensures that the potato doesn't sink into the filling and makes it much easier to spread. If you are in a rush - as I often am - pop it in the freezer while you make the potato. That works pretty well.
3. Watery potatoes drops excess liquid while baking into the filling which makes the sauce watery. So don't skip the step of steam drying the potatoes!
Also, make sure the mash is hot when spreading onto the pie. Cold mash is hard and so it is harder to dollop / spread onto the pie.
4. Variations: If I'm making this for company or am on a calorie-blow-out mission, I add a big handful of cheese into the potato and also top with more cheese before baking. It doesn't need it, it's a bonus.
For the filling, sometimes I add peas, or I reduce the amount of beef and add chopped veggies like zucchini.
5. Make ahead instructions: Assemble pie but don't bake it. Cool mashed potato topping then either refrigerate (4 days) or freeze (3 months).
Thaw if frozen (it will take way too long to bake from frozen) then bake as per recipe. Or bake from frozen - covered at 180°C/350°for 45 minutes, then 30 minutes uncovered.
Can also do individual servings in ramekins!