Baked Crunchy Hot Honey Chicken is an adored family favorite that appeals to all palates! This delightful dish features succulent chicken coated in a delectable cornflake crust, expertly baked on a convenient sheet pan until it reaches the pinnacle of crispiness and flavor. The secret behind its irresistible texture lies in the double layer of crumbs. However, the true pièce de résistance is the remarkable sauce—a divine blend of sweet honey harmoniously infused with an exquisite medley of spices and delicate sea salt. Prepare to savor this mouthwatering delight for a delightful weeknight supper among loved ones and cherished friends.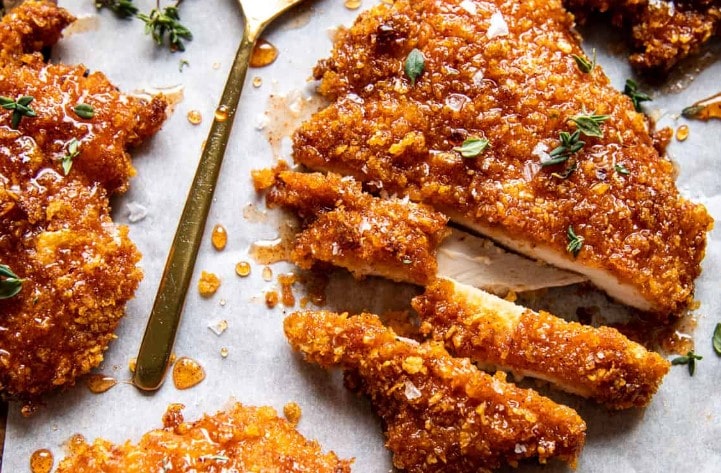 Baked Crunchy Hot Honey Chicken
Simple cornflake-crusted chicken baked up on a sheet pan until crispy and delicious
Ingredients
6

cups

cornflakes

use gluten free, if needed

1/4

cup

grated parmesan cheese

1

teaspoon

smoked paprika

1/2

teaspoon

onion powder

1/2

teaspoon

garlic powder

2

large eggs

beaten

2

tablespoons

hot sauce

2

pounds

chicken breast tenderloins

extra virgin olive oil

for drizzling
Hot Honey
1/2

cup

honey

2-3

tablespoons

hot sauce

1-3

teaspoons

cayenne pepper

3/4

teaspoon

chipotle chili powder

1/2

teaspoon

garlic powder

1/2

teaspoon

onion powder

sea salt

fresh thyme

cilantro, or parsley, for serving
Instructions
Preheat the oven to 425° F. Line a baking sheet with parchment paper.

In a food processor, combine the cornflakes, parmesan, paprika, onion powder, garlic powder, and a pinch of salt. Pulse until you have fine crumbs. Alternatively, you can crush the crumbs in a ziplock bag by stepping on them. Dump the crumbs into a shallow bowl.

Beat the eggs in a bowl, add the hot sauce and chicken, and toss well to coat.

Dredge the chicken through the crumbs, covering fully. Place on the prepared baking sheet. For a thicker coating, dip the chicken back through the eggs, then through the crumbs a 2nd time. Place on the prepared baking sheet. Drizzle with olive oil. Bake for 20-25 minutes, until crisp all around.

Just before the chicken is done cooking, make the sauce. In a sauce pot, warm together the honey, hot sauce, cayenne, chili powder, onion powder, and garlic powder, plus a pinch of salt.

Drizzle the warm sauce over the chicken. Top with herbs. If the sauce thickens, warm for 5 seconds in the microwave. Enjoy!