The key to the crunch wrap is, well… the CRUNCH. You want to use a tostada shell right inside the wrap. If you can't find them, you can use tortilla chips.
I use the tostada shells from ALDI. They are so easy and delicious. We love them! They are the perfect size to fit right in the crunch wrap and they retain their crunch very well.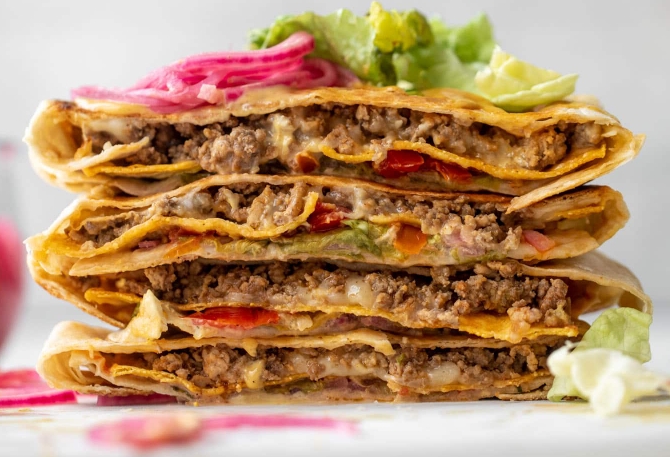 Cheeseburger Crunch Wrap
These cheeseburger crunchwraps are unreal. Cheesy beef, house sauce, crispy tostada shell with cheddar, tomatoes, lettuce and pickled onions. So crispy and incredible!
Ingredients
1

pound

of lean ground turkey or beef

kosher salt and pepper

3

tablespoons

ketchup

2

tablespoons

yellow mustard

4

large burrito-sized flour tortillas

4

small 4-inch flour tortillas

4 to

stada shells

or a bag of tortilla chips

8

ounces

sharp cheddar cheese

freshly grated

1

cup

cherry tomatoes

chopped

2

cups

butter lettuce or greens

pickled onions

optional (or raw red onion)

pickles

for serving
HOUSE SAUCE
½

cup

mayonnaise

2

tablespoons

dijon mustard

1

tablespoon

yellow mustard

1

tablespoon

honey

1

tablespoon

your favorite BBQ sauce
Instructions
Add the ground beef or turkey to a skillet over medium heat and cook until browned, breaking it apart into small crumbles. Stir in the ketchup and mustard until combined. Turn off the heat and add in a sprinkle of cheese - just an ounce or two.

Now it's time to layer! You want to make sure your tortillas are pliable and soft. If they have been in the fridge and they are cold, I suggest microwaving them for 10 to 15 seconds. This prevents breakage.

Heat a drop of olive oil in a nonstick skillet or griddle over medium-low heat. You want this to be hot and ready to go once the crunch wrap is layered.

Place the large tortilla down first. Spoon some of the beef into the center - I use about a quarter of the meat in the skillet. Drizzle on the house sauce. Sprinkle on some of the cheddar cheese. Gently press the tostada shell on next - or use a few tortilla chips in a single layer. I add another sprinkle of cheese, another drizzle of sauce. Then I add some cherry tomatoes, a handful of lettuce and pickled onions.

Place the small flour tortilla on top. Fold up the edges of the large tortilla around the small one. It can be tricky the first few times to hold down all the edges - but you will get the hang of it. Quickly and carefully flip the crunchwrap down into the skillet. Cook it for about 5 minutes or until it is sealed shut. Carefully flip and cook the other side for another 5ish minutes.

Serve immediately with extra house sauce! Slice down the center and eat!
HOUSE SAUCE
Whisk all ingredients together until smooth and combined. You can make this a day or so ahead of time!